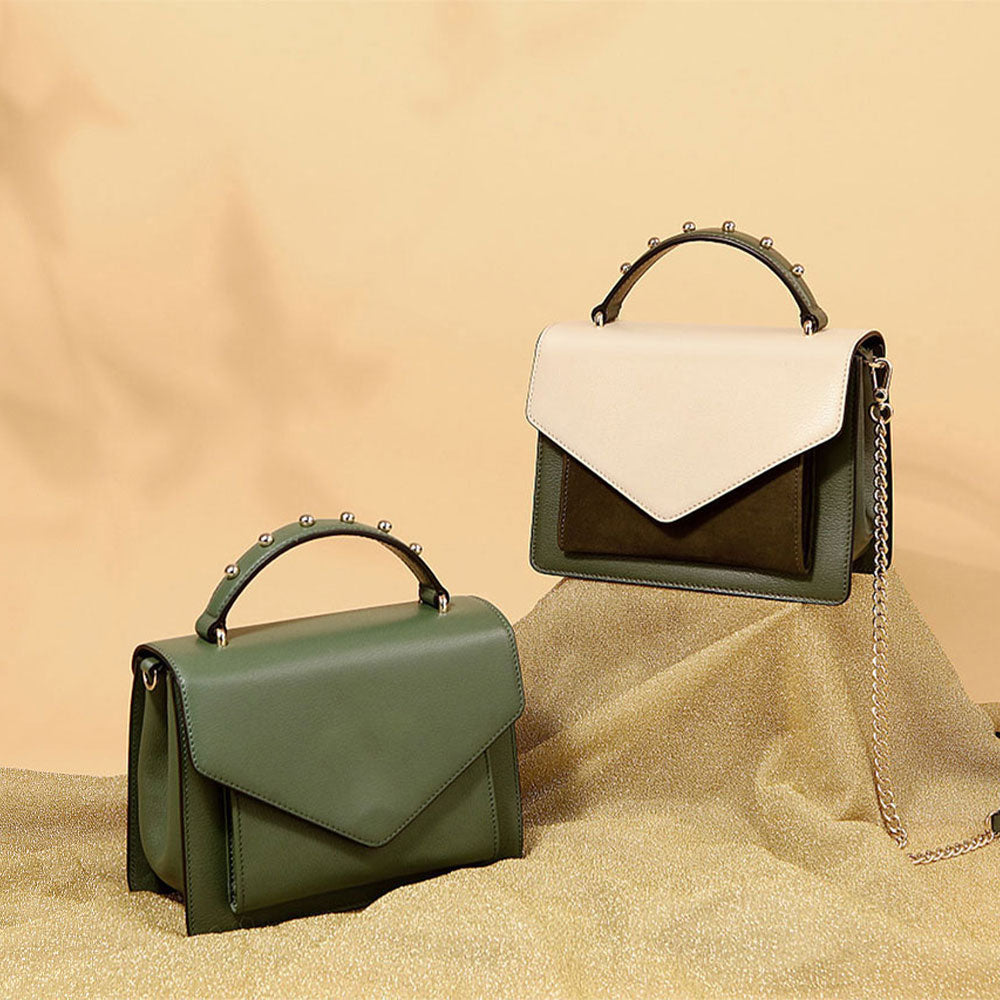 Genuine Leather Handbags Under $100
It's no secret that many of us dream of owning a designer leather handbag. 
A good leather handbag is an absolute necessity for every woman. Top-notch genuine leather handbags for ladies can cost a small fortune, but there's no reason you can't find a great handbag for under $100. Whether you're looking for a stylish satchel or a classic leather clutch, we've got plenty of options to choose from at prices that won't break the bank.
Here are all genuine leather handbags under $100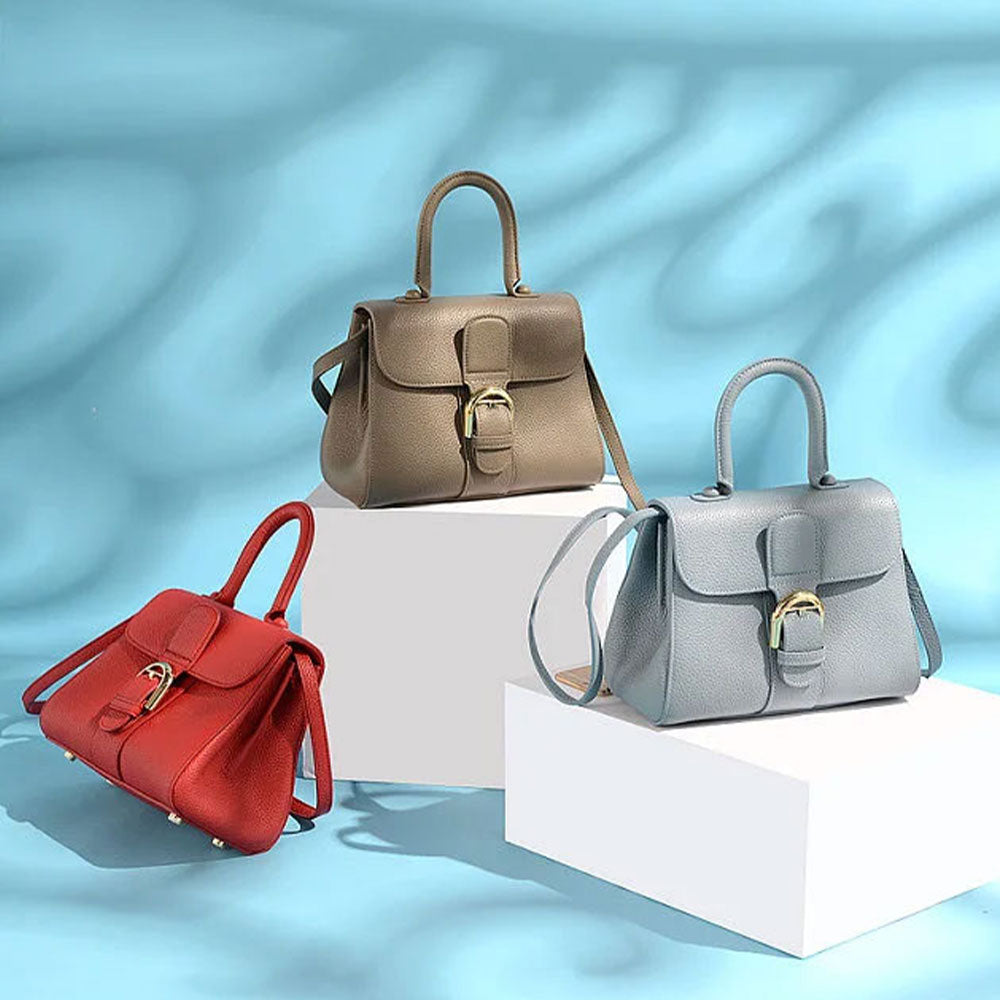 Leather Handbags on Sale
We offer the best selection of designer handbags on sale for less. Whether you're looking for a small leather handbag or a large leather handbag, we have what you need.
Our small leather handbags are designed to fit comfortably over your shoulder or across your body while still offering ample room for all your essentials. With soft, supple leather exteriors and interior pockets, these small leather handbags provide both style and convenience.
Whether you're looking for women's handbags on sale for everyday use or something more formal for special occasions, our collection of designer handbags has everything you need!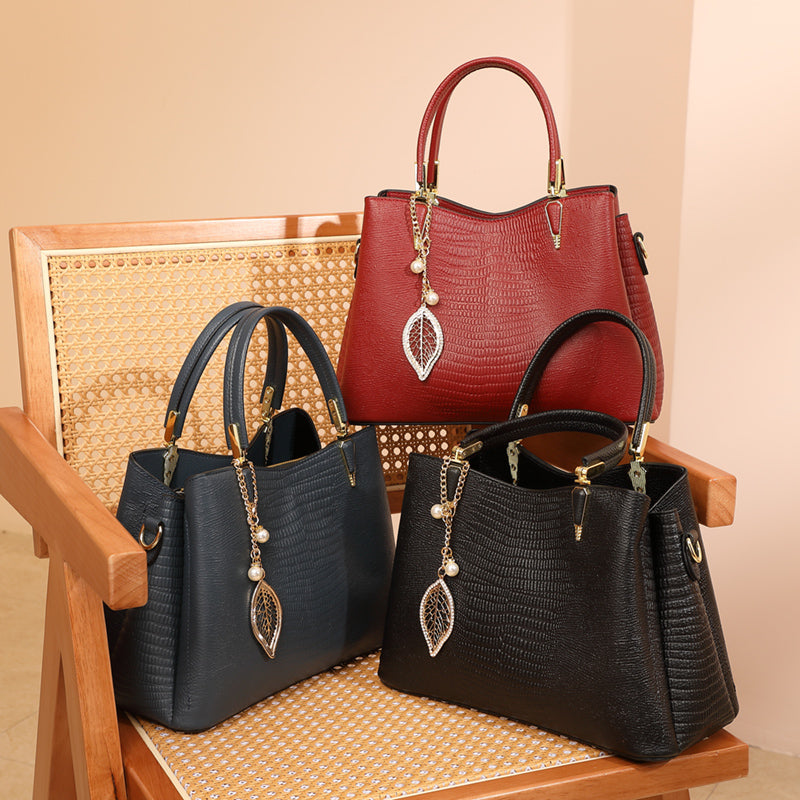 Soft Leather Handbags
Soft leather handbags are one of the most popular types of handbags. They come in a variety of shapes and sizes, and are perfect for anyone who wants to look stylish. Soft leather bags for ladies are available in many different colors and styles, so you're sure to find one that matches your personal taste.
Best soft leather handbags come in a wide range of colors, including black, brown, white, red and blue. You can find soft leather handbags with compartments on Regina. These bags usually have a zipper closure or some type of buckle closure. If you want something more fancy, you can choose from soft leather designer handbags that are available at high end department stores.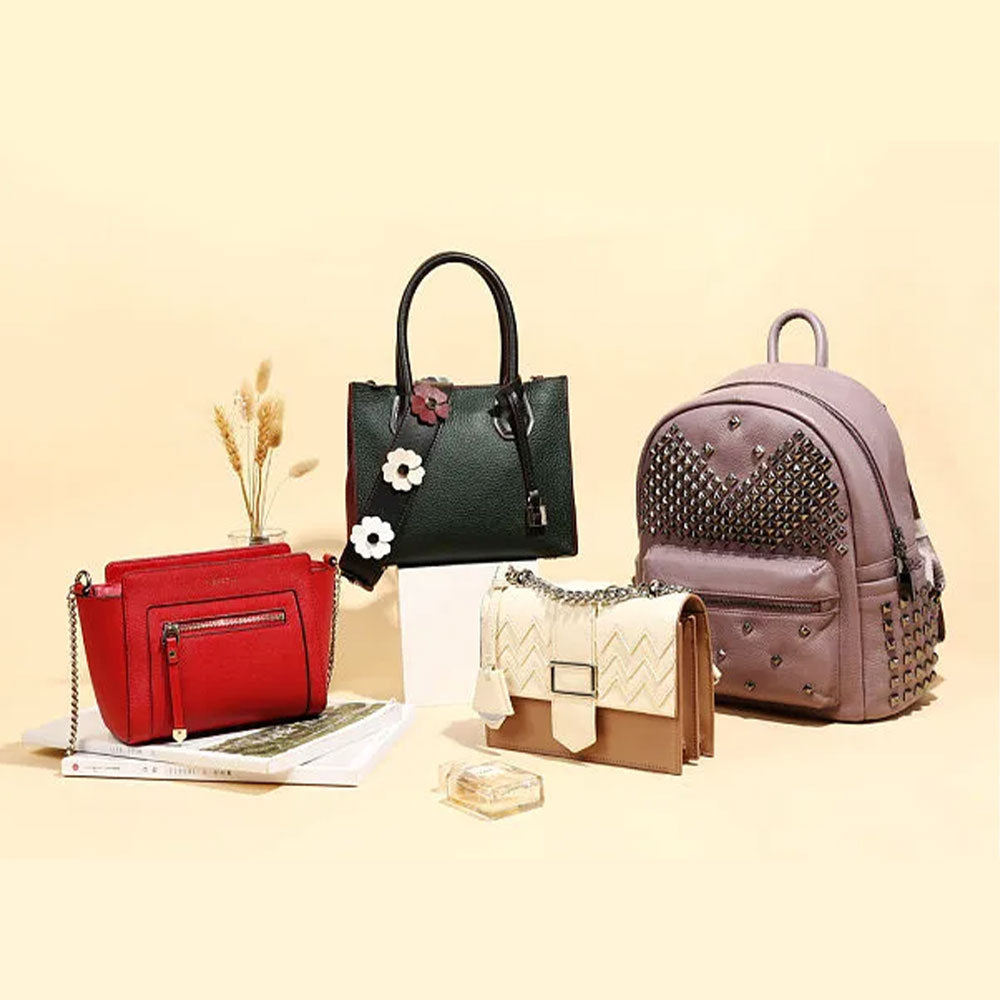 Real Leather Handbag
If you are looking for genuine leather handbags online, you have come to the right place! We have a large selection of genuine leather handbags and other leather accessories.
Genuine Leather bags for Ladies is one of the hottest trends in fashion today. Whether you are looking for a soft genuine leather handbags or a designer bag, we have what you are looking for.
Regina is a professional real Leather Handbags Brands, we have a variety of high-quality items, wo have genuine leather bags online and handbags on sale, some of them are under $100.
We offer a wide range of high-quality leather handbags at affordable prices.
Features of Regina Leather Handbag
Leather Handbags for Women

Have you ever dreamed of having one leather handbag to keep you looking elegant and classy, while keeping it stylish? The search ends here. Regina has designed their collection especially for the women who adore handbags, who are looking for a luxurious
Our site has fashionable and high-quality brand handbags for sale. Affordable price and premium quality. Free shipping worldwide!

Exquisite Workmanship & Details

We are committed to offering the finest and most creative handbag designs, with a large range of fashionable and beautiful leather handbags, leather totes and leather purses, handmade by expert artisans.
These leather handbags for Women with fine designs, exquisite workmanship, top handcrafts.
Every stitch, every pressed glue, every bend, are taken seriously, we do not let go of any detail, we pursue excellence and perfection.

High-Quality Leather & Hardware

Create a unique look for your next handbag, choose from soft or hard leather.
We will design your handbag according to your idea, making it out of high quality of leather and fine hardware, to ensure that the handbag had a long service life with FREE shipping and 100% satisfaction guarantee.

We offers small leather handbag, genuine leather tote bag and other leather purses, with affordable price and high quality, all handmade.

Multi-function & Multi-pockets

Leather handbags with many functions from Regina. Many pockets inside and outside are perfect for multiple purposes.
The Regina genuine Leather Handbag offers a front zip pocket to keep your things organised, a concealed back zip pocket for your wallet and phone, an adjustable shoulder
You deserve more than just a handbag. You deserve an accessory that brings you joy, completing your look with a hint of confidence and style.

Original Design & Monthly New

We have our own design team to develop design the most competitive price for you, all our handbags are carefully picked and strictly inspected.
We design and bring you all the newest styles of women handbags each month. We bring you new classic collections, hot fashion trends and the most beautiful limited editions that we can find in every corner of the world.
Superb quality leather handbags in various styles and colors, classic simple design. They will highlight your beauty, charm and wit.

Handmade & Dozens of Processes

Regina creates handmade leather handbags and accessories made by dozens of processes.
Regina Unique, fashionable, hand-made leather bags for women.
Adorned with hundreds of different styles, colors, sizes and details, our handmade totes are perfect for daily use or as a special gift.
All bags are handmade, except for a few that require machine embossing. More than dozens of steps go into manufacturing each bag.
Instruction Black bag not just a bag;   it's an essential piece that can effortlessly elevate your everyday style.  Regardless of whether you're going to work, running errands, or meeting friends for...

Instruction Black bag not just a bag;   it's an essential piece that can effortlessly elevate your everyday style.  Regardless of whether you're going to work, running errands, or meeting friends for...

Instruction Ah, the timeless allure of a black handbag – a fashion staple that knows no bounds. But how do you make this versatile accessory truly shine in your ensemble?...

Instruction Ah, the timeless allure of a black handbag – a fashion staple that knows no bounds. But how do you make this versatile accessory truly shine in your ensemble?...

Instruction Accessorizing is an art, and when it comes to mastering the art of wearing a black bag, A world of opportunities opens up in front of you. The black...

Instruction Accessorizing is an art, and when it comes to mastering the art of wearing a black bag, A world of opportunities opens up in front of you. The black...
Frequently Asked Questions (FAQ)
How long will a leather bag last?

How often you use and maintain your leather bag can dramatically affect how long it will last. Most people won't keep their bags for that long, and leather will endure for 100 years before it starts to break down. However, a well-made, full-grain leather bag should be handled with care and regularly oiled may survive for up to 30 years.


How Can You Make Your Leather Bag Last Longer?
Take the following actions to lengthen the life of your leather bag:
Keep your bag in a dust bag, pack it to keep its form, and place it on the base or in storage (not hung up).
When your bag is frequently used or three months a year when it is not, you should oil the leather once a month. Additionally, this keeps it watertight.


The Bags That Remain in Use the Longest
You must pay attention to the type of leather if you want a bag that will endure longer than the others. Because it is thicker and has proven to last longer, full grain leather is what you need for your bag.
How do I choose a leather handbag?

Functionality

A bag's primary purpose is to provide the user with a convenient storage option when they are on the go.

It's also important to carefully evaluate all additional features, like as removable shoulder straps, handy side pockets, secret inside compartments, or adjustable buckles for security. When selecting a leather bag for a particular use, these aspects are very crucial.

The size, amount of storage, and quantity of pockets of a handbag all affect its usability. You may choose a leather handbag with more space for storage, more pockets, and a larger size for a weeklong journey. You may even buy a tiny, practical leather purse for daily usage that can accommodate your essential daily necessities. Check whether there are enough pockets and if the storage space is appropriate before purchase.

Size

The ideal size for a leather bag entirely depends on the purpose for usage and the wearer's preferences.

The measurements of each Regina Leather bag are shown so that consumers can grasp the size of their selected design before making a purchase. It helps with the decision process.

A leather handbag's size greatly affects how it will seem on you and how useful it will be. Keep in mind that a tiny leather handbag might make a short woman appear overweight, whilst a large bag can make her appear out of proportion. Similar to how a bag that is too tiny won't hold enough of your belongings, a bag that is too huge won't allow for easy organization. So, the key is moderation. Make sure you carefully select the leather bag that complements your style and practicality.

Price & Budget

Pricey goods have traditionally been associated with leather. Any leather product's pricing is influenced by the item's quality, finish, and size.

Be prepared to deal with thousands of dollars if you want one of the well-known designer purses. However, if you have a limited budget but still want a luxury leather handbag, you should usually go with an unbranded bag or a less expensive designer bag.

Regina Leather Purses, on the other hand, takes pleasure in the fact that it sells its clients superior leather at reasonable pricing.

Design & Style

The design of every specific bag is, of course, entirely subjective.

What kind of event call for the handbag? Which outfit do you want to use to carry the bag? For every sophisticated fashionista, the whole appearance is equally important when selecting any leather handbag. It will stand out due to the uniqueness of the styles and designs.

People who enjoy giving their belongings a little bit of personality can opt to personalize their Regina Leather purse by embossing their initials on the outside.

Inner Linings & Finish

A high-quality lining is necessary for a handbag made of high-quality leather. The handbag has a finished look thanks to the high-quality cotton used in the lining. The product is more long-lasting and robust thanks to the high-quality linings. Avoid purchasing a leather bag if the interior contains anything that seems cheap or fragile. Such bags exhibit shoddy construction.

Each Regina Leather bag is equipped with discrete brass zips and hardware for a modest yet striking look.

Color

Customers may choose an item that will go with their clothing thanks to the variety of hues offered by Regina Leather bags. There is bound to be a Regina Leather bag to fit any taste, from timeless neutrals like black, gray, brown, milk-tea, and fashionable cognac to canvas/leather combination models in colorful colors of green, scarlet, and royal blue.

Zippers

Another factor to think about is the leather bag's hardware. Zippers that are damaged or of poor quality render a purse worthless. You might never need to carry handbags with broken zippers. To keep your possessions safe and secure, you need bags. Your possessions are always at risk from bags with subpar zippers. Purchasing such bags serves no purpose.

Strength & Quality

The two characteristics that serve as a distinguishing mark of high-grade leather hide selection and tanning. The choosing of the hide is a method used to cover up scratches and blemishes on the leather. Animal skin seems cleaner and more attractive thanks to the hidden choice. While tanning is the procedure of caring for animal skin.

This gives it a leather-like appearance. The tanning process gives the leather produced more resilience. Tanning also reduces a person's vulnerability to decomposition. During the tanning process, the leather's color also takes place. A smooth finish is a must for a handbag made of high-quality leather. It must not appear to be made of plastic or rubber. These leathers are of lower quality, less durable, and have a shorter lifespan.

Each bag is made to withstand daily usage and withstand ordinary wear and tear thanks to the high-quality leather Regina sources and the superb craftsmanship. Some Regina Leather models have detachable shoulder straps and strong, 100% leather handles, which guarantee the bags' longevity and sturdiness.

Authenticity

When purchasing a leather handbag, the bag's authenticity may be the most crucial factor to consider. The market is full of fake handbags that are being sold as legitimate. And this is because a larger proportion of individuals want leather handbags with a similar design to those made by the original manufacturers but cannot afford to buy them. As a result, you need to be aware of the telltale indicators that can distinguish an original from a fake ladies' leather handbag. In this manner, you might identify a genuine leather handbag while purchasing one.
Which is better faux leather or genuine leather?

Considering style, durability, quality, and budget, genuine leather is better than faux leather.
Durability
The genuine leather handbag has a very high level of durability. Because it lasts longer, genuine leather is more durable than faux leather. These genuine leather purses may be expensive, but they will last for a longer time.
Quality
The best leather is supposedly genuine leather. It is constructed of animal skin. Cheap synthetic materials can be used to create faux leather. Polyurethane is used to make certain fake leather. They can be distinguished from real leather with ease.
Style
Handbags made of genuine leather are crafted to have a robust and supple appearance. Its texture is described as slightly warm and silky. In contrast to imitation leather bags, genuine leather bags have irregular and distinctive pattern details.
Faux leather purses come in designs that seem smooth and somewhat plastic. Compared to genuine leather handbags, the pattern detailing on synthetic leather bags is stated to be asymmetrical. Additionally, faux leather bags can have a little chemical and plastic odor. Since it is unable to absorb water, the water stays on the surface.
Budget
The most prominent comparison between genuine leather and synthetic leather bags is their cost. Faux leather jackets cost less than genuine leather. Genuine leather bags cost more because of the type of leather and their quality. Genuine leather typically costs twice as much as faux leather.
How to clean soft white leather handbag?

Fast wiping
The best action is to immediately clean up any spills to reduce the likelihood of discoloration. However, no matter how quickly you clean up, you will eventually undoubtedly run into difficult stains that a straightforward leather cleaner won't be able to remove. The following things can assist you in cleaning stains from white leather:

Rubbing Alcohol
The best solution for eliminating ink stains is rubbing alcohol. Alternately, you might try using nail paint remover, but be careful to test the technique first in a discreet area. Gently blot the stain without rubbing it with a cotton swab after dipping it in the liquid. Wipe the area with a moist towel once the stain has been eliminated.

Cornstarch or Baking Soda
Take a bit of cornstarch or baking soda and gently massage it over the stain to remove oil or grease. Allow it to sit for a few hours or until the starch has absorbed the oil if the stain is not erased.

Toothpaste
Before using toothpaste to remove stains, gently wet the spot with water. Use toothpaste without gel. Put a tiny quantity on the surface, then scrape gently with a soft toothbrush. Once everything is done and dried, wipe with a fresh towel.

Lemon Juice with Cream of Tartar
Apply the two components to the discolored area in an equal mixture, and leave for 30 minutes. The paste should then be removed using a moist sponge.
Which leather is best for handbags?

Cowhide leather and sheepskin leather are both luxurious materials but there are differences.

Cowhide leather is more durable than sheepskin.

The main difference between cowhide and sheepskin is that cowhide is more economical to produce.

Cowhide leather is thicker and usually heavier than sheepskin leather.

Sheepskin leather is softer and more flexible than cowhide.

Sheepskin is often used to make suede clothing and leather accessories.

Sheepskin has a natural lanolin coating that makes it naturally resistant to water.
What can damage leather bags?

Although leather bags will endure longer than any other kind of material, they are not damage-proof. The quality may suffer and degrade if not adequately maintained and safeguarded.

WHAT CAUSES LEATHER BAG DAMAGE?

1. SUBJECT TO SUNLIGHT
That enormous glaring orb in the sky known as the sun is Leather's worst enemy. The color of your leather purse can be impacted by excessive exposure to sunshine, but it can also harm the leather and make it appear old and worn.
Sunlight exposure is a typical cause of damaged leather bags.

2. EXTREME TEMPERATURE CHANGES
If you shift a leather bag from one region that has a pretty constant warm temperature to one that is significantly cooler or hotter, the leather bag may become damaged. For instance, if the temperature drops significantly at night, store your luggage outside or move a leather handbag from inside the home to an outdoor balcony.
Keep your bag in regions with consistent temperatures to prevent damaged leather.

3. DELAYING CLEANING STAINS
You or someone else could occasionally spill anything on your leather purse. The stain may become permanent if you don't take prompt care to remove it. The protectant and other leather cleaning supplies in a decent leather repair kit may help you remove the stain without causing any harm to your leather bag.

4. To clean your leather purse, use harsh chemicals and soaps.
Instead of producing clean leather, products containing abrasive detergents and chemicals may harm leather bags. To ensure that you are correctly caring for your leather bag, look for professionally formulated leather cleaning solutions and leather restoration kits. Other products can result in dried, cracked, dull leather.

5. EXCESSIVE HEAT
Warmth is lovely and soothing, but if your leather purse is too close to a heating vent, the leather bag may become damaged. Keep the bag away from heating vents and, once more, park vehicles in garages or shaded areas.
How much does a leather handbag cost?

Generally speaking, leather bags are more expensive compared to other materials due to the high cost of the material and the complexity of the workmanship, however, it is not unaffordable.
Smaller leather bags are generally cheaper, with prices under $150, and as little as $60 can be bought.
Large ones, or those responsible for the process are more expensive, often costing several hundred dollars. Branded products, on the other hand, cost several thousand dollars.
Regina sells leather bags so cheaply that everyone can afford them. For products that are active, there is usually a discount of at least 20%, and you can get a nice leather bag for just a few dozen dollars.
Especially at the time of Black Friday and Christmas every year, many products will be sold at 50% off directly.
Regina's leather clutch bag series of products, are made of high-quality leather, excellent craftsmanship, the price is generally 100 - 200 U.S. dollars, for new users, can have up to 15% discount, you can use this discount to buy purchase, discount code:NEW15
Are leather handbags worth it?

In a way, leather is an investment. The use of leather bags is regarded as a sign of elegance.
Purchasing something made of leather will never make you regret it. Leather items survive for many years if kept clean. You may walk with confidence and keep up with the trend while you're wearing leather.

There are 4 Benefits to Investing in a leather bag
1. Durability
Full-grain leather bags have a long lifespan and are thus guaranteed. Indeed, leather items are a classic beauty. You may reach a whole new level of sophistication with leather bags.

You will always prefer leather bags over other textile and plastic bags if you compare them to other bags that are already on the market. Those are far less expensive than leather bags. Let's dissect it for yell.

Cotton, canvas, and nylon are fabrics that will inevitably wear out or end up in poor shape in bags. In a short time, leather does not get crumpled or worn out. Leather often ages faster than it does naturally.

It simply takes a few hours to clean leather, and that too only once a month because you don't want the leather to become dry or damaged. To reduce the likelihood that your leather bag will get dry or wrinkled, you only need to clean the leather once a week.

2. Looks

There is no rivalry in this market. Leather accessories will always be more stylish and refined than other bags. Even without the practicality, leather is lovely. Although it has a wide range of practical applications, the fundamental reason why it is such a well-liked bag material is due to how regal and elegant it seems.

Every bag made of leather is universally recognized as being high-end and is hence categorized as being high buzz. Some of the most fashionable bags on the market are made of pure hide.

3. Are Leather Bags Water Resistant

Due to the material's permeable nature, it has some water resistance, but excessive amounts of water can cause the leather to become wet and when the leather dries, it can become stiff and rigid, losing that incredibly soft texture.

However, if the leather does not dry quickly enough, it may begin to rot.

Many leather bags are imitations that are only water-resistant due to the bee wax that they are constructed of. Such bags eventually decay because mist may collect within the bag.

Other bags like those made of canvas and cotton have a propensity to become wet quickly and ruin your belongings.

4. Long-Lasting

Buffalo leather of the highest quality is used to flawlessly build the leather bag.
The leather is resilient. You don't insist on having a unique preservation procedure for this bag. The leather is undoubtedly smooth and will remain so forever. We also took a gamble that the hide wouldn't break after it dried after using this bag for a long.

Unlike canvas bags, which tend to lose their color and deteriorate after a few years. When it comes to meeting the needs of its clients, leather has always been a leader.